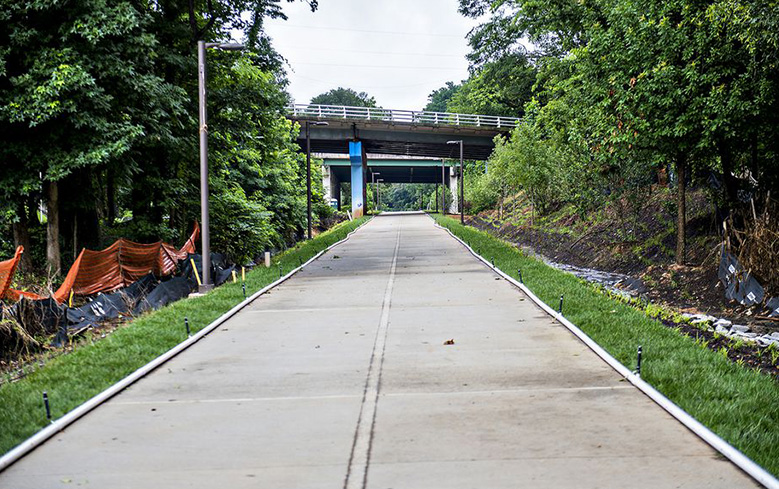 August 13, 2018 / By WebSiteAdmin
Westside purchase means the project now owns all dormant railroad land needed for the 22-mile loop
Following a major purchase earlier this year on Atlanta's southern fringes, the Beltline has secured yet another needed parcel—the last unused railroad corridor along the proposed 22-mile loop that's becoming the city's most powerful economic engine, officials announced this week.
In March, the city shelled out $26 million in TSPLOST cash to purchase a 4-mile arc of the proposed Southside Trail—abandoned rail lines—from CSX Transportation.
Then, last week, project officials announced that $2.1 million had been spent to claim another 2.5 acres of trailside property at the Murphy Crossing redevelopment site in Adair Park.
On Monday, the Beltline revealed that $6.3 million has been expended to take control of the last inactive rail corridor in the project's blueprints.
Known as "the Kudzu Line," this newly purchased 1.8-mile segment connects Westside neighborhoods Bankhead, English Avenue, Knight Park, and Howell Station.
And while the 1.8-mile segment, also acquired from CSX, will help stitch together the main Beltline loop, it also creates opportunities for potential spur trails further linking those communities, officials said.
The Kudzu Line purchase, like the Southside Trail before it, came by way of TSPLOST funding, and "the transaction gives ABI and the City of Atlanta control of approximately 80 percent of the corridor needed to construct the Atlanta BeltLine trail and transit loop," according to a Beltline press release.
The final 20 percent—on the north and northwest part of the puzzle—contains some active railroad properties. That's all TBD.
"This key piece of the Atlanta BeltLine loop will also allow for access to the Bankhead MARTA station, Maddox Park, the future Westside Park at Bellwood Quarry, as well as a future link to the newly-opened Proctor Creek Greenway," the release continues.
Beltline CEO Brian McGowan, who's leaving the post later this month for a new job in Seattle, said recently he wanted to finalize the Kudzu Line purchase before his departure.
Mission accomplished.
"This small but crucial section of corridor will have a direct impact on connectivity for the Westside of Atlanta," McGowan said in a prepared statement. "Accessibility is core to building an equitable and inclusive Atlanta. This is one more step in the right direction."
For the next six months, CSX will be prepping the site for the Beltline, meaning the land will be stripped of its railroad remnants so ABI can turn the passage into a temporary hiking trail.
Like the Southside Trail corridor, the land will be off limits to the public until it's properly cleaned up to safety specs.