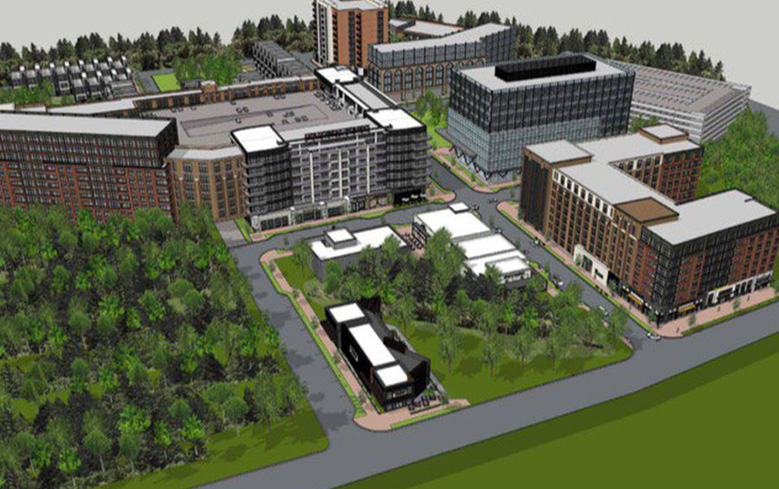 August 13, 2018 / By WebSiteAdmin
Community outcry persuaded developer Brock Built to rethink its proposal
Folks fighting the ills of gentrification on Atlanta's Westside can wipe sweat from their collective brow after Monday's city council meeting.
But they feel there's still work to be done.
Proposed by Brock Built Homes, a substantial 17-acre mixed-use project in English Avenue—on the corner of Donald Lee Hollowell Parkway and Northside Drive—just earned council approval to move forward, according to Saporta Report.
The project, dubbed "Echo Street Communities," was met with fierce backlash months ago, when residents realized Brock Built was aiming to develop its project twice as dense as is recommended by the Westside Land Use Framework Plan, a community-crafted blueprint for the area's future development.
The newly approved plan, however, trims some of the original fat, as well as meets—and, developers hope, will later exceed—the city's affordable housing requirements.
The development, as Saporta Report noted, will need at least 20 percent of its incoming 718 apartment units and 40 townhomes to be attainable at 80 percent of the area median income. That means the proposed 144 affordable rentals, give or take, could cost about $1,348 for a two-bedroom or $1,736 for a four-bedroom unit.
The rest would be priced at market rate.
However, the problem, as some have pointed out, with using the 80 percent AMI metric is that English Avenue residents tend to make far less than the average Atlantan, making those "affordable" rents still out of reach.
So now, the developer, as well as local leaders and disgruntled residents, are hashing out ways to incorporate another 30 more affordable units to be priced at 30 percent AMI.
Injecting that into the plans would mean at least 5 percent of the project would be genuinely accessible to the area's low-income residents; a two-bedroom would run roughly $520 a month and a four-bedroom could cost around $844, according to Saporta Report.
To make that happen, said Councilman Ivory Lee Young, the project would need to secure subsidies from organizations such as Invest Atlanta or the Westside Future Fund, since Brock Built is already coming out of pocket for the first 144 "affordable" units.
One of Brock Built's development partners, DeFoor Ventures, said project leaders, nonprofits, and community members are inching closer to making the additional 30-unit goal a reality.