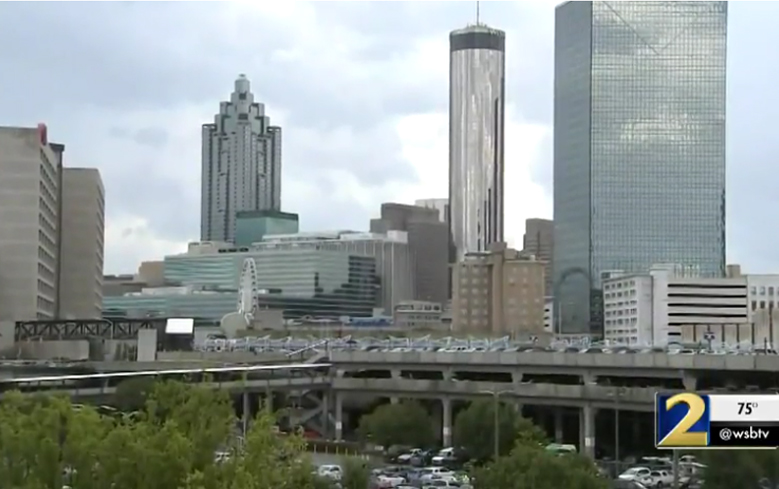 October 12, 2018 / By WebSiteAdmin
The Metro Atlanta Chamber on Monday came out in favor of the $5 billion Gulch deal as outside pressure from the business community builds on the City Council to support an up to $1.75 billion public financing package.
The chamber joins other prominent backers of the proposal, including downtown business coalition Central Atlanta Progress and Gov. Nathan Deal, who have urged council approval.
In a letter to council members, chamber CEO Hala Moddelmog said she applauded the council for taking its time to sort through the complex deal. She offered "independent resources" to aid council's decision-making, an apparent reference to a push by some members for a third-party audit of the deal, which later in the day failed to receive the eight council votes needed to pass.
But Moddelmog urged members to vote in favor of the project at the council's Oct. 15 meeting.
Moddelmog also made a reference to the pending land transaction needed to make the deal a reality. Norfolk Southern, an owner of much of the key Gulch land, wants to sell its property to CIM to help fund a potential headquarters relocation. The company is considering relocating from Virginia to Midtown, which could create or move about 1,000 jobs.
"Unfortunately, the project has real time constraints that are, not surprisingly, associated with multiple public and private land holders and a complex real estate deal three years in the making," Moddelmog wrote. "… We are clear that the redevelopment of the Gulch is an imperative worthy of deliberate, timely and thoughtful consideration. As we work toward our mission of making metro Atlanta more vibrant and prosperous, breathing new life into downtown Atlanta is a clear priority."
California-based developer CIM Group and their allies have stepped up their push on council to support the project, rolling out a social media blitz and a website under the banner "Greenlight the Gulch." The campaign includes mailers, radio ads and robocalls.
Community groups, meanwhile, have flooded council hearings to demand more concessions from the developer, such as a bigger commitment to affordable housing. Other critics have urged council to kill the proposal, calling the deal a giveaway to the developers.
CIM has proposed a mini-city including office towers, apartments, hotels and retail. The 40-acre development would span the rail lines and parking lots between the Five Points MARTA station and Mercedes-Benz Stadium.
The proposal relies on bonds backed by two sources of public funding: 5 cents of the city's 8.9-cent sales tax generated from future sales on the Gulch site, and future expected increases in property taxes from the development, which lies in a zone known as a tax allocation district.
Four of the five cents are state tax dollars. The overall financing, CIM co-founder Richard Ressler has said, would come at no credit risk to the city because CIM is on the hook for the debt if the tax dollars don't cover all the bonds.
Moddelmog cited community benefits commitments by the developer for affordable housing and job creation, among its pluses.
The deal has been in limbo since Sept. 17 when Mayor Keisha Lance Bottoms delayed a vote lacking council support.
Julian Bene, a former board member of Invest Atlanta, the city's economic development arm and a leading deal critic, said the proposal gives up far too much in future tax revenue for the promised public benefit.
"There is an alternative to this and that would be voting the damned thing down," he said.
On Monday, an effort by council members to get a third-party audit of the proposal failed to win the eight votes needed for approval. The failure of the audit legislation sets the stage for a potential Oct. 15 vote to approve the overall project.
The Fulton County commission and Atlanta Public Schools also must approve the proposal.
GULCH REDEVELOPMENT
Scope: Developer CIM Group outlined a project of $3.5 billion to $5 billion. The CIM proposal could grow to more than 9 million square feet of office space, 1,000 residences, 1,500 hotel rooms and 1 million square feet of retail space.
Partners: California-based CIM was co-founded by Richard Ressler, whose brother Tony is the lead owner of the Atlanta Hawks. The Hawks also are a Gulch partner. |Incentives: Documents obtained by the AJC project public financing of $900 million to $1.75 billion, though those figures could grow. It would be funded by a portion of sales taxes generated on-site and bonds backed by expected future increases in property taxes.
Community benefits: CIM has agreed to a package of affordable housing commitments, jobs training and other community benefits, including: $28 million investment in a citywide affordable housing trust fund; the greater of 200 residential units, or 20 percent of the total built, set aside as affordable for people making 80 percent of the area median income (or a 1 bedroom rent of about $1,100); taxpayer-funded federal vouchers could increase the affordable housing figure to 30 percent; $12 million toward an economic development fund; $12 million for a new fire station; a new Atlanta police mini-precinct; $2 million to an Atlanta Committee for Progress workforce program; 38 percent minority-and women-owned business participation and 10 percent equity in the project to minority and or women-owned businesses. Up to $125 million in bond financing could go to other Westside neighborhood projects.