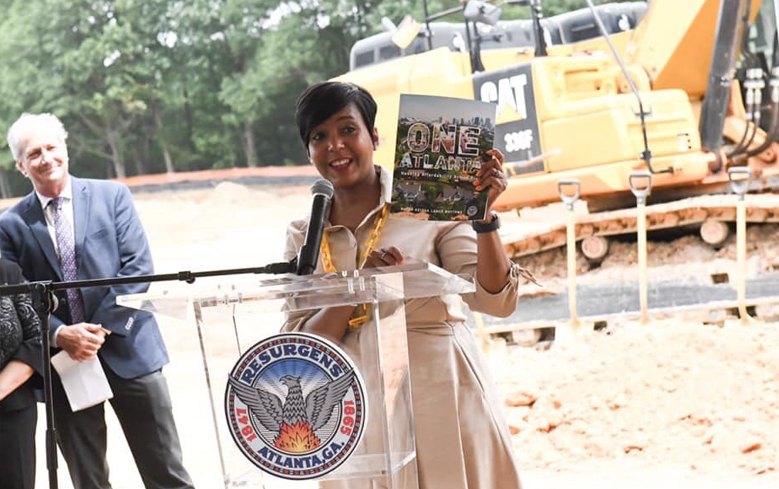 July 4, 2019 / By WebSiteAdmin
The One Atlanta: Housing Affordability Action Plan outlines a bold vision to achieve Mayor Bottoms' vision to provide a pathway to affordable and equitable housing opportunities for all who desire to call Atlanta home.
Atlanta's population is increasing, but new housing construction has focused on higher-cost demand.
In 2017, Atlanta was the third fastest growing metropolitan region in the United States. As our population grows, many of our long-term residents are experiencing challenges related to affordable housing, particularly as much of the new residential development has focus on higher-cost units.
While our economy has grown over the last decade, wages have not kept pace with rising rents.
Between 2000 and 2017, Atlanta's median rent increased by over 70%, but Atlanta's median income only increased by 48%.
There is a growing gap between what people can afford versus what people are making.
As housing costs have grown, more Atlantans have been forced to spend a greater percentage of their income on housing costs. In 2016, more than half of Atlantans were considered housing-cost burdened.
Our plan will implement 13 initiatives and 45 actions to achieve four key goals:
Create or preserve 20,000 affordable homes by 2026 and increase overall supply:
Leverage vacant public land for housing
Create and expand housing affordability tools
Revise the Zoning Code
Invest $1 billion from public, private, and philanthropic sources to produce and preserve affordable housing:
Maximize existing funding sources
Develop new funding sources
Increase philanthropic and private investment in affordable housing
Ensure equitable growth for all Atlantans and minimize displacement:
Prevent involuntary displacement
Explore expansion of property tax programs for creation and preservation of affordable housing
Expand awareness of and increase participation in housing affordability programs
Support innovation and streamline processes:
Establish a Housing Innovation Lab
Improve Building and Zoning Codes
Improve our system for developing and delivering affordable housing
Enhance community engagement