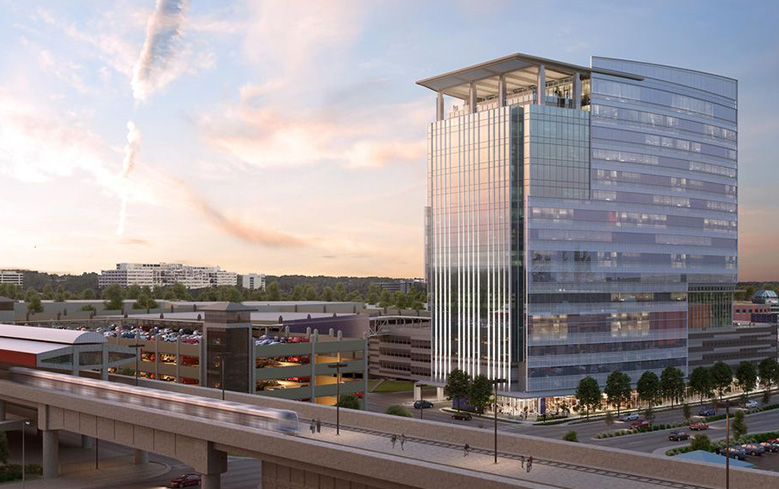 August 13, 2018 / By WebSiteAdmin
The 16-story project will bring more than 300,000 square feet of office space to a site next to MARTA
A new transit-oriented development is on track to rise next to Perimeter Mall.
Developers say construction will launch next week on a 16-story office tower on Hammond Drive, a corner slot next to the Dunwoody MARTA Station.
It's called Twelve24—a spin on its address at 1224 Hammond Drive.
Developed by Trammell Crow, the high-rise is expected to ultimately boast more than 300,000 square feet of Class A office space, as well as 11,000 square feet of ground floor retail and restaurant options fronting Hammond Drive.
The structure is expected to be able to house more than 1,000 workers.
Most of the building—175,000 square feet, to be exact—will be inhabited by a tenant secured back in January: Insight Global, a national staffing and services company relocating its headquarters to Dunwoody from Brookhaven.
In addition to the curving, glass-faced tower, Trammell Crow is also planning to build a pedestrian bridge linking the development to the MARTA stop and one of its parking decks.
Next door to the office tower, Trammell Crow is also developing a 10-story, 180-key hotel. The two projects will be linked by an elevated outdoor terrace between them.
The office tower, which neighbors the under-construction State Farm corporate campus and the site of the proposed High Street development, is scheduled to be finished by the beginning of 2020, according to the developer's website.