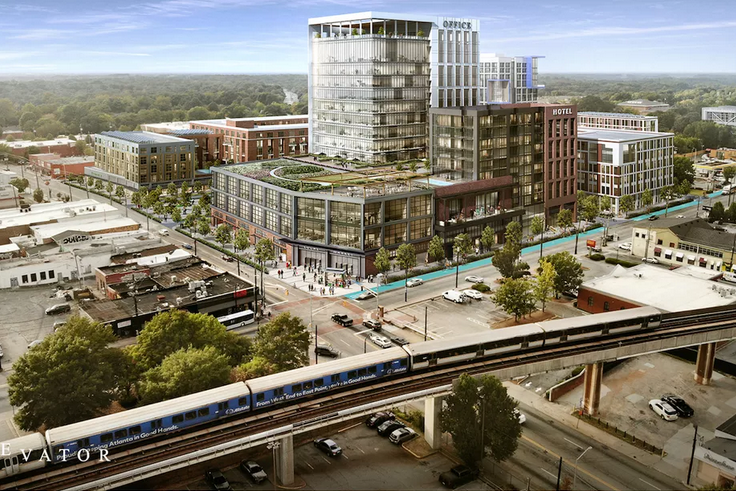 March 20, 2020 / By WebSiteAdmin
The proposed redevelopment of West End's aging mall into a bustling hub of offices, hotel rooms, and affordable housing that would set a national example for how federal "opportunity zones" could prosper is moving forward, and investors with clout are buying in, according to project leaders.
Elevator City Partners, a firm founded by Atlanta Beltline visionary Ryan Gravel and venture capitalist Donray Von, released new renderings today that show the overarching vision for the mall's potential $400-million replacement.
The district would transform 12.5 acres about a mile southwest of downtown Atlanta into a retail, residential, cultural, and office destination, with a public green-space component and a MARTA station a block away.
An ECP rep told Curbed Atlanta, "We don't have a ballpark timeline yet on initial construction," but the project is described as a multi-phase, multi-year venture in a press release update that accompanied the new renderings.
Atlanta-based ECP has not yet bought the mall property. The City of Atlanta's economic development arm, Invest Atlanta, provided a $2 million predevelopment loan—with affordable housing requirements that would apply to future housing—to help ECP secure the site, begin preliminary designs, and perform due-diligence, officials said.
Meanwhile, on the investor front, the mall redevelopment has attracted the interest of foundations, large banks, and family offices—one of which has "brought a national hotel developer to the project," per the release, though a brand wasn't specified.
The goal is to walk the tightrope between a major development that does more to enhance the community than displace it, while delivering favorable returns to investors. (ECP is planning a $15-million economic development fund to alleviate displacement and support minority-owned businesses, officials noted.)
"The future West End Retail District," states the release, "is poised to be a national example of how developers, communities, and investors can work together to maximize the potential impact of opportunity zones."
The initial phase is expected to see multifamily housing and fresh retail take shape, at an estimated cost of $110 to $150 million.
The second phase, costing between $175 and $250 million, would see more housing and offices.
The redeveloped mall "will become a technology and media hub, attracting Silicon Valley partners as well as entertainment companies that produce television and film in metro Atlanta," said Gravel, in a prepared statement. "It will be a beacon of diverse, freshly graduated talent for global companies that are seeking a diverse workforce."
An analysis of the site's redevelopment potential showed the West End Mall and its vicinity serve a population of more than 1 million Atlantans today, officials said.
Today, the 1970 shopping facility counts Radio Shack, Foot Locker, Rainbow clothing, and eateries such as American Deli and Abdullah the Butcher as main draws, according to mall management.
Von, a West End native, stressed that his group is committed to helping businesses who want to stay in business in the area, adding: "Ten years from now, when the mall is redeveloped, local businesses will still fill the district."
The mall's current owner, Chuck Taylor of HT Group, whose father built the original building 50 years ago, called his property "one of the best redevelopment sites in America" in a prepared statement.
Dr. Eloisa Klementich, Invest Atlanta president and CEO, said the project will further her agency's efforts to "foster equitable investment in the Southside" that's geared to provide "access to jobs and affordable housing."
Gensler, a global architecture firm with offices in Atlanta, is spearheading designs. Those include a master plan developed with input from Gravel.